Posted by CanopiesAnd Tarps on Nov 18th 2013
When you are ready to escape to the great outdoors, Canopies and Tarps can help you find the best camping tarp for your needs.
Sports stores and other outdoor outfitters love selling all kinds of handy tools, appliances and other camping accessories. All those things might be handy in the right situation, but campers, in general, try to pick the most important, versatile equipment for their needs. Things that can multitask are incredibly valuable on a camping trip, because that means less gear to pack.
When it comes to versatility, there is no substitute for a tarp. Whether you want to make a tarp shelter, make a base for your tent, protect your property or anything else that presents itself, no other tool does as much.
The Best Camping Tarp for You
It may be a little difficult to figure out how to pick the best camping tarp, because there are a lot of options out there. Learn more about the uses for the best camping tarps to help you decide what to choose.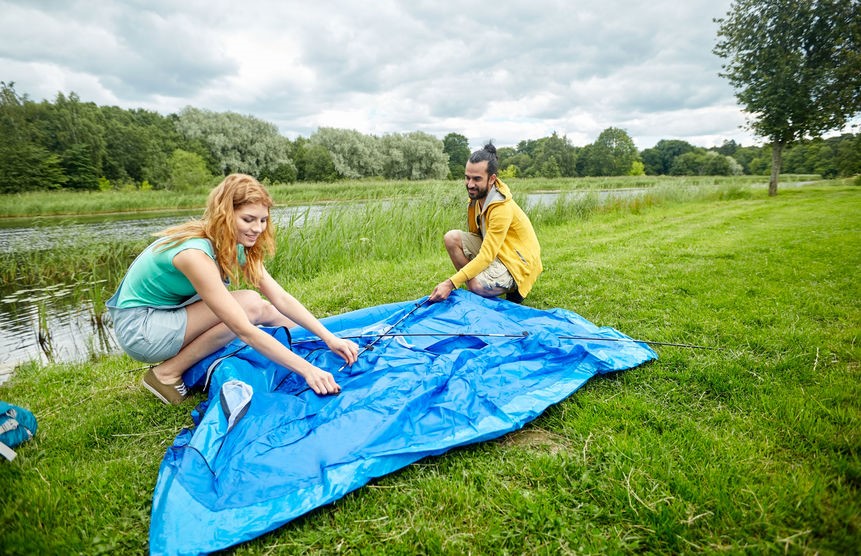 Choose the Best Tarp for Camping
The best camping tarp needs to be used for several different functions. Because there are many different types of tarps, it may seem very difficult to choose the best camping tarps, even if you know exactly what kind of camping experience you are looking for. That's why it's important to understand the aspects of the best tarps for camping and how they help protect you and your gear, and enhance the camping experience.
Consider the following qualities:
Size: Obviously, the bigger the better, but you'll have to deal with its size when packing. Consider whether you can sleep comfortably under it.
Material: Many campers swear by canvas, but backpacking campers appreciate lightweight backpacking tarps made of polyethylene. Also, ensure that it has good grommets for a secure installation.
Color: Do you want your tarp to blend with its surroundings or stand out for safety?
Water resistance: If you get a canvas tarp, make sure it has been treated for water resistance.
The Best Tarps for Camping Anywhere
No matter where you choose to go, the best camping tarps will necessarily boast several important features. First, the best tarp for camping must be water-resistant in order to shelter its users from storms and rainfall. This will keep everything " and everyone " within as dry as possible, and prevent rust from being created on any metallic surfaces. Second, the best tarps for camping must also be wind resistant. If a huge wind comes during the night, the last thing you want is your tarp to tear and blow away, letting in rain or snow.
The Best Camping Tarp to Rely On
The best camping tarp needs to be dependable and do many things at once. If you are camping during the summer when rain is not a threat, you still need the best camping tarps to resist ultraviolet radiation from the sun, which will keep all of your equipment and yourself cool. Make sure the construction of the best tarp for camping is top-notch so that it can be rigidly erected and kept in place over time.